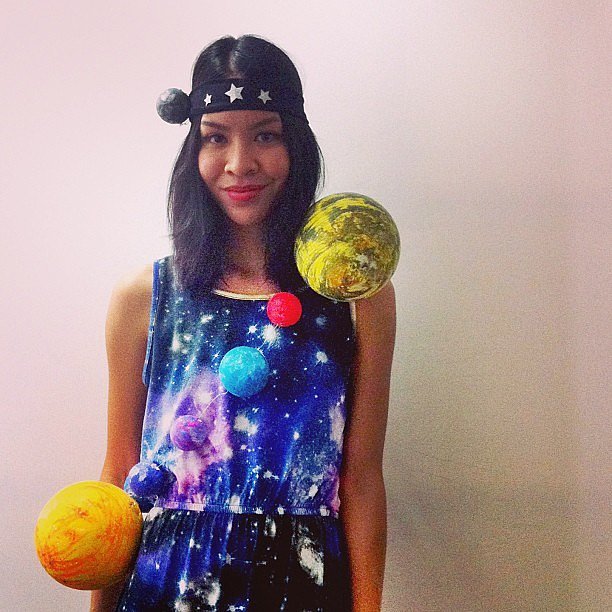 Since galaxy print was a huge fashion staple this past season, it's easy to find on sale right now. Attach foam planets to a galaxy dress, and shoot for the stars!
RELATED:
100+ of the Best DIY Gifts Ever
[3]
Alex From A Clockwork Orange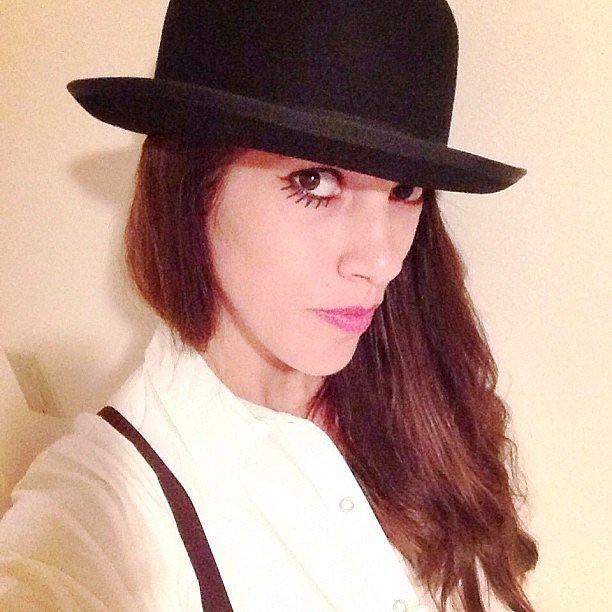 With a bowler hat, a set of false lashes, and an all-white outfit, you can easily dress as the dystopian antihero from Stanley Kubrick's 1970s film.
Paper Doll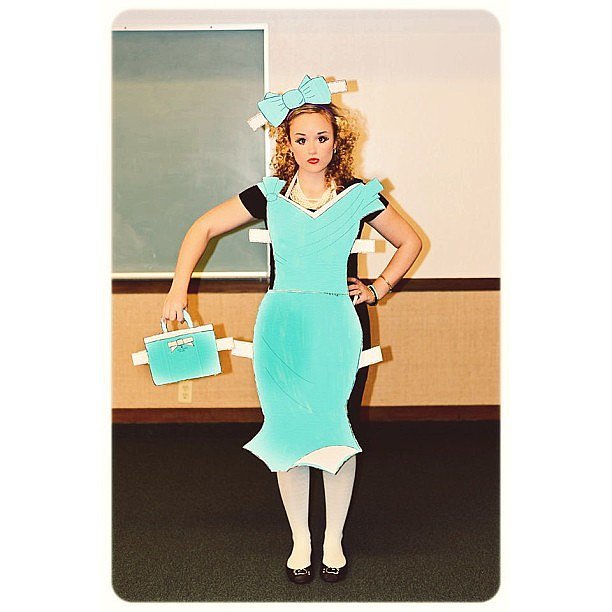 Turn a favorite childhood plaything into your costume this year by cutting clothing shapes out of poster board, leaving a few square tabs along the sides. Simply tape the cutouts to your clothes and doll yourself up (pun intended) with girlie hair and makeup for a great costume!
Katy Perry in the "Roar" Video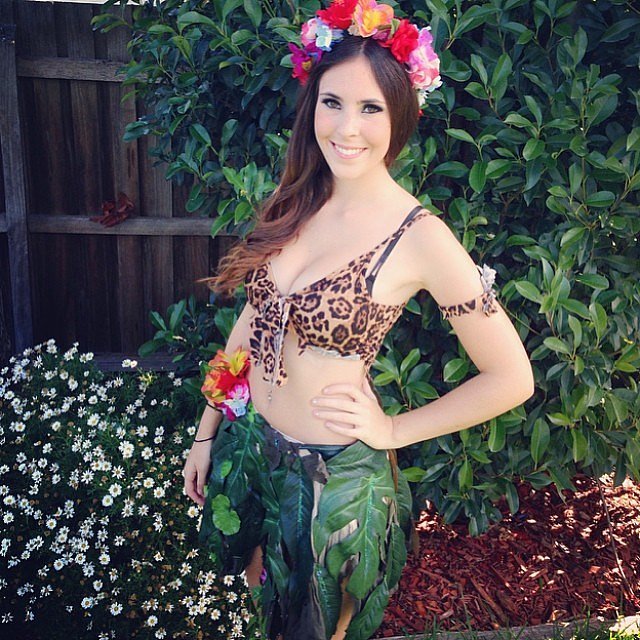 Just like
Katy Perry
[4] channeled a rainforest babe in her
video for "Roar,"
[5] you can be queen of the jungle with some leopard print and fake leaves.
Lorde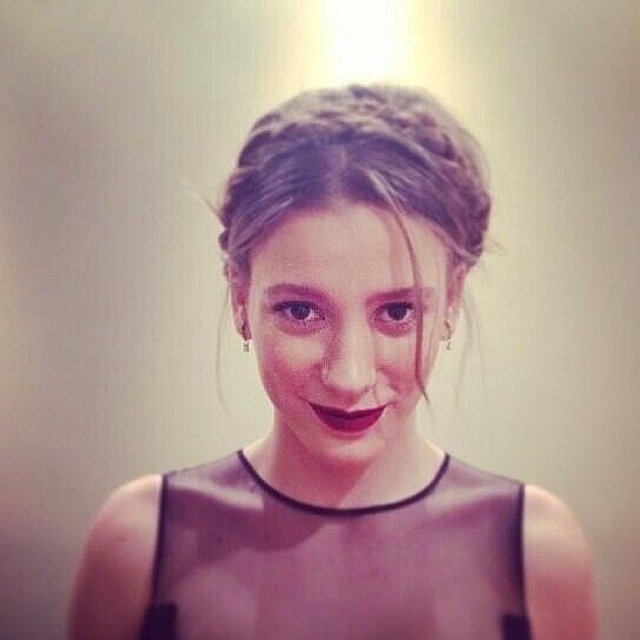 You'll feel like a royal with dark lips, a black dress, and Lorde-inspired hair. Either curl it and let it hang wild or opt for a braided crown!
The Travel Bug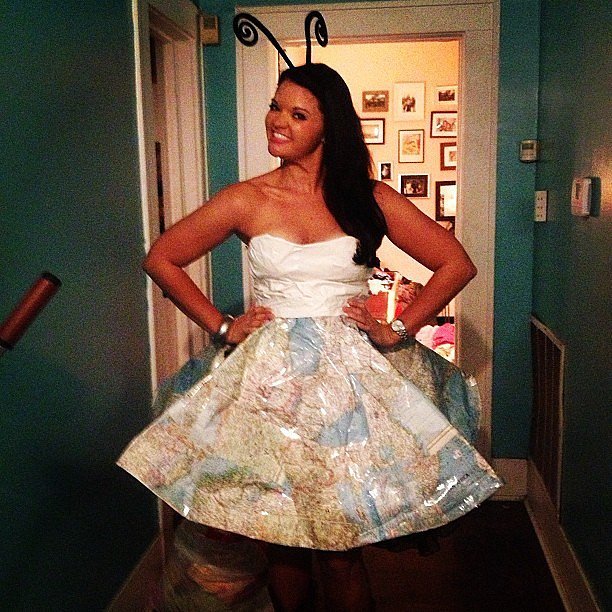 Your friends will love this play on words! Attach maps to your clothes and create "antennas" (pipe cleaners attached to a headband should do the trick) for a quirky take on wanderlust.
Princess Leia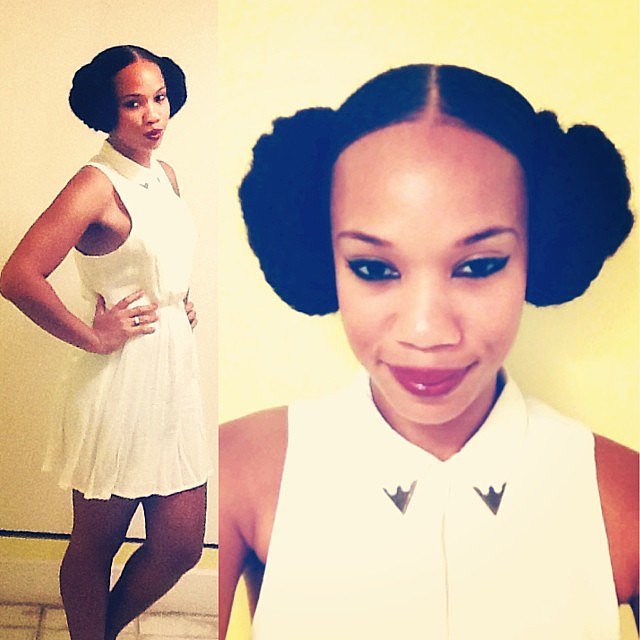 Simply throw your hair into two side buns and don a white dress to rock this
Star Wars
costume. Nobody will be calling you a scruffy-looking nerf herder at any
Halloween
[6] parties!
Red From Orange Is the New Black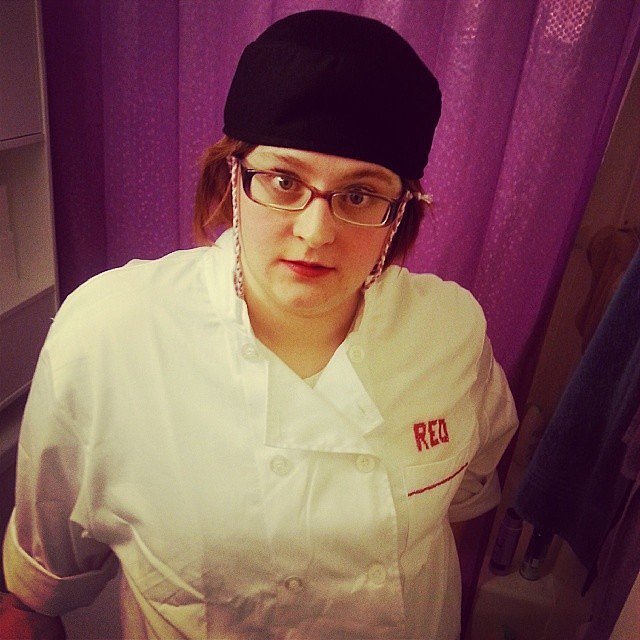 Everybody's favorite mafia-affiliated chef is an easy costume. Simply wear glasses, a black hat, and a white dress shirt to look like you work in a prison kitchen!
Beetlejuice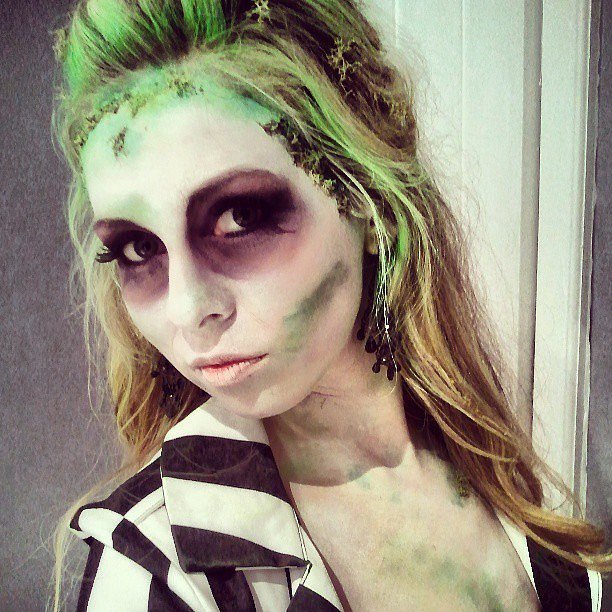 The name of the game for this movie costume is to look dead. Pale face, green "mold," and dark eyes go perfectly with a striped top!
Rosie the Riveter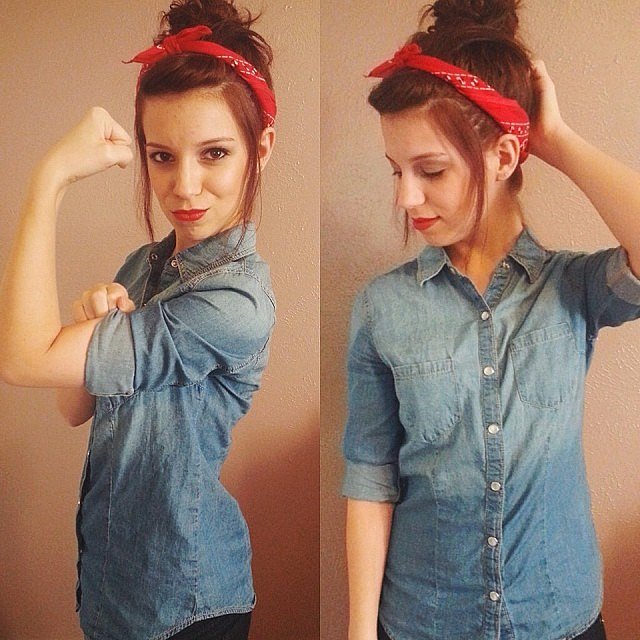 Dressing up as this feminist icon is easy! A red bandanna and denim shirt are all you need to create this look.
Taco Belle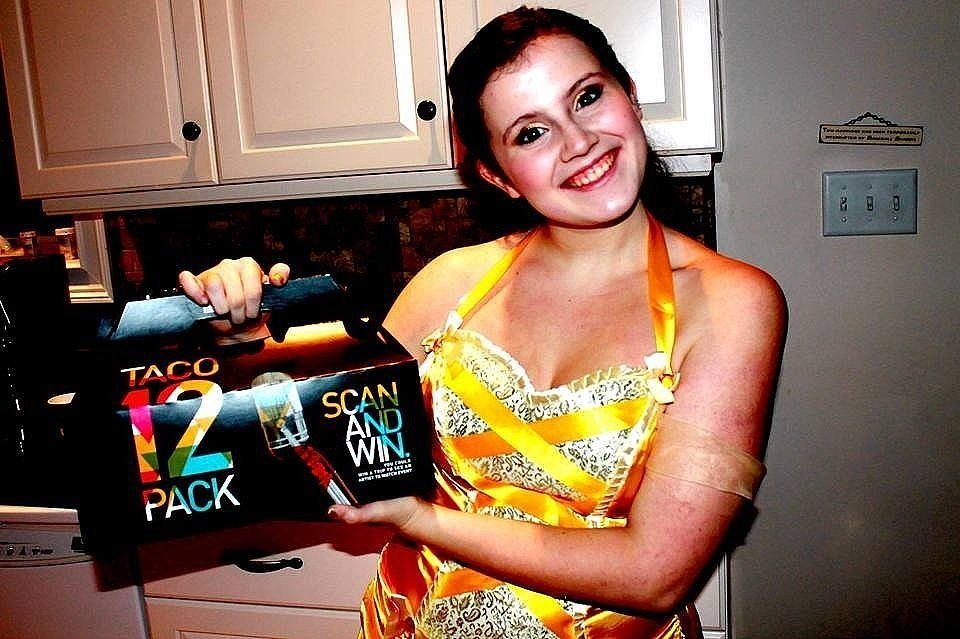 Nothing is better than Disney and tacos. Nothing. Wear a yellow dress and a hair bow, then bring tacos for all your friends!
Audrey Hepburn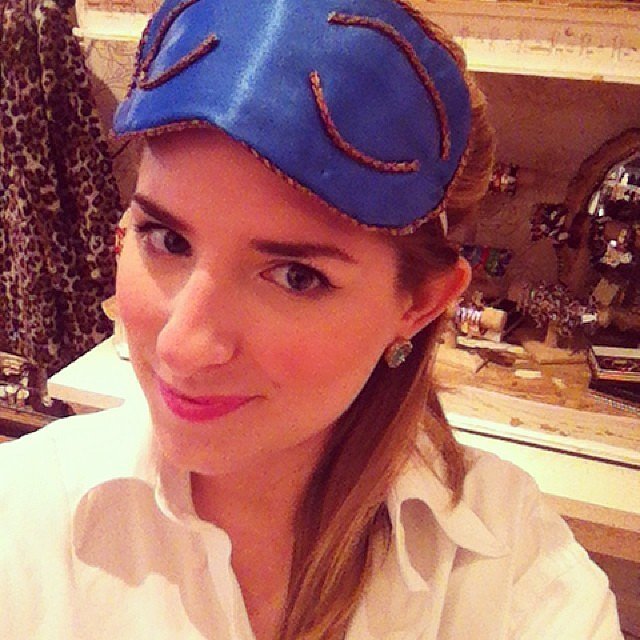 While a black dress and pearls make up the most famous
Breakfast at Tiffany's
look, Audrey Hepburn's character also dons a sleeping mask and white dress shirt in other scenes. Draw lashes on a blue eye mask and enjoy the coziness of
Halloween
[7] in a comfy collared shirt.
Kristen Wiig SNL Characters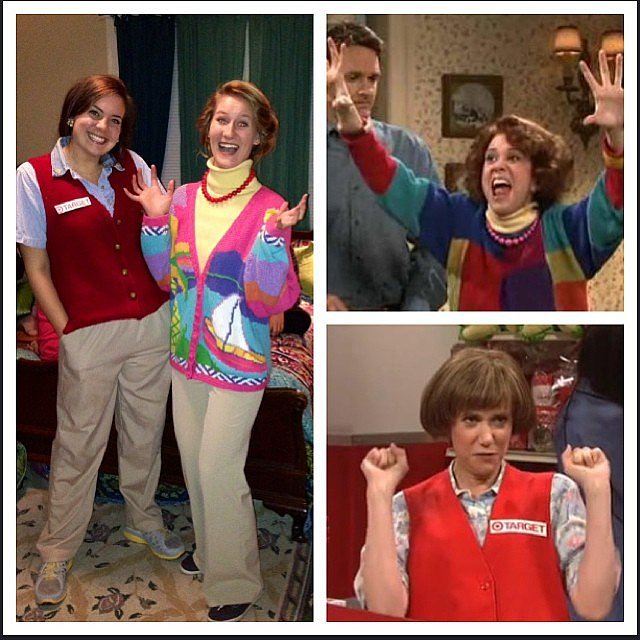 Whether you like the Target Lady or Sue the Surprise Ruiner, Kristen Wiig's famous characters from
Saturday Night Live
are easy to imitate.
Dr. Who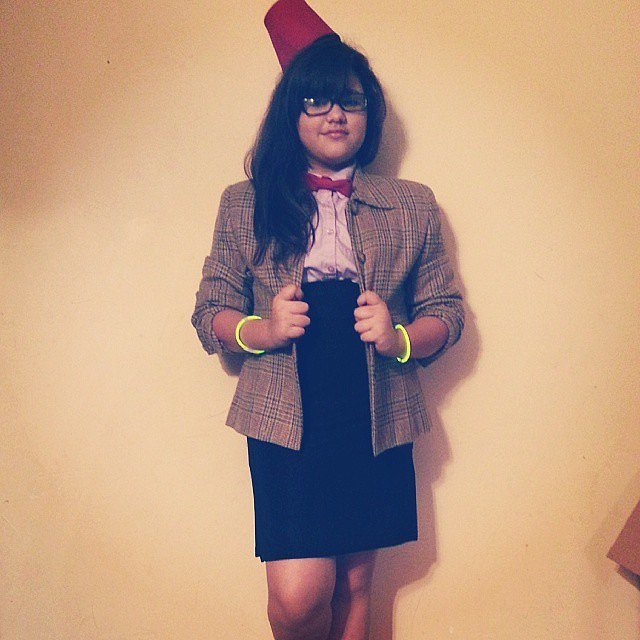 Guys aren't the only ones who can channel The Doctor. Create a fez cap with a cup and headband, thrift a brown blazer and red bow tie, then improvise the rest!
Rod Kimble From Hot Rod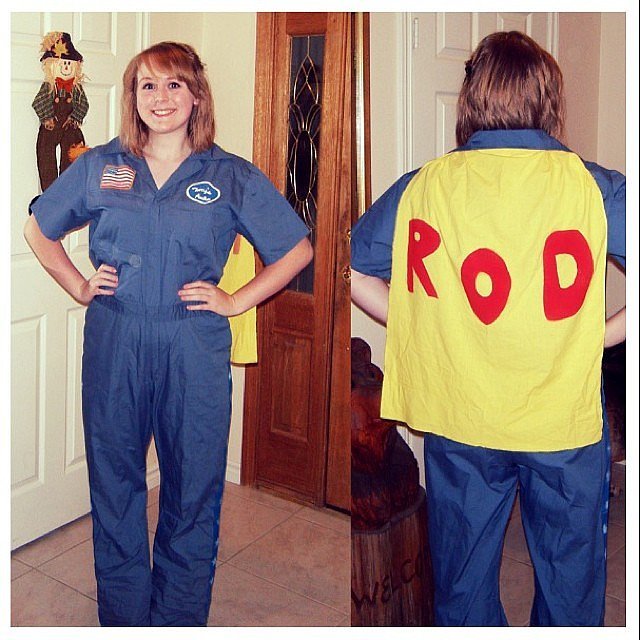 Fans of this
Andy Samberg
[8] comedy will love your costume creativity. All you need is a work jumper, makeshift cape, and goofy smile for this costume. For bonus points, dig up a fake mustache!
Inspired Artist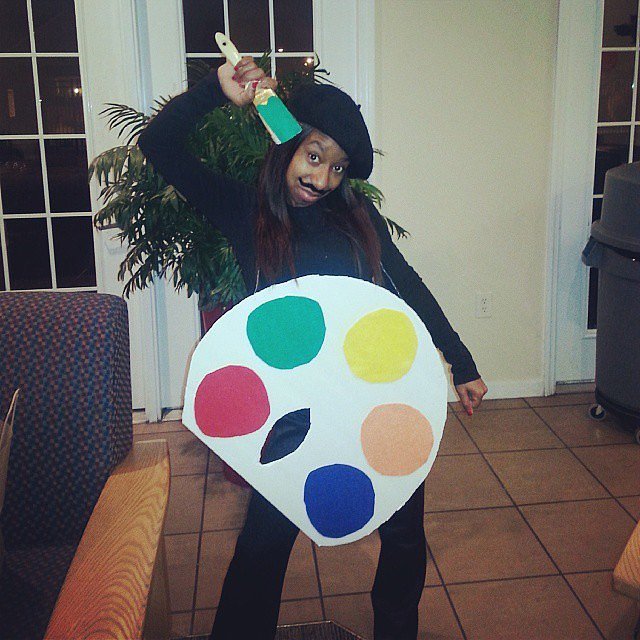 Ever hear the saying that artists need to become their work? For this costume, take it literally. Create an artist's palette with cardboard and paint, then carry the paintbrush you used with you on
Halloween
[9] night.
Carmen Sandiego
With a red coat, black pants, and a yellow ribbon tied around a red hat, you can show people exactly where in the world you are this
Halloween
[10].
Oh Deer and/or Holy Cow
Dress like a deer and attach a paper "oh!" to your outfit, or add wings and a halo to your favorite cow ensemble. Once people see the joke, they'll love your cute play on words!
Frosty the Snowman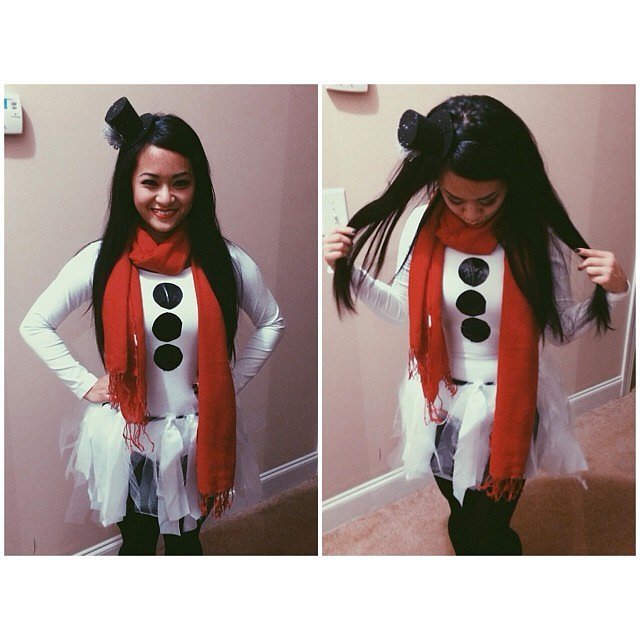 Layer a red scarf and black paper dots on top of white clothes for this easy costume
DIY
[11].
Prince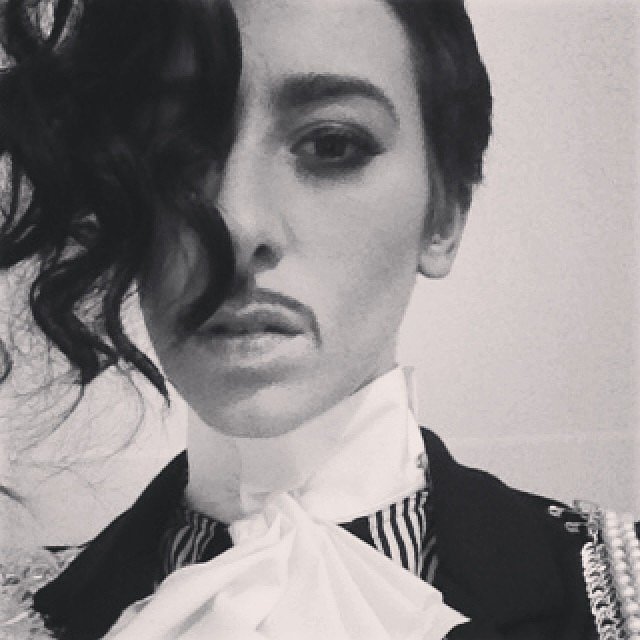 Eccentric clothing, hair in your face, and an eyeliner mustache will instantly transform you into this music legend for
Halloween
[12].
Regina George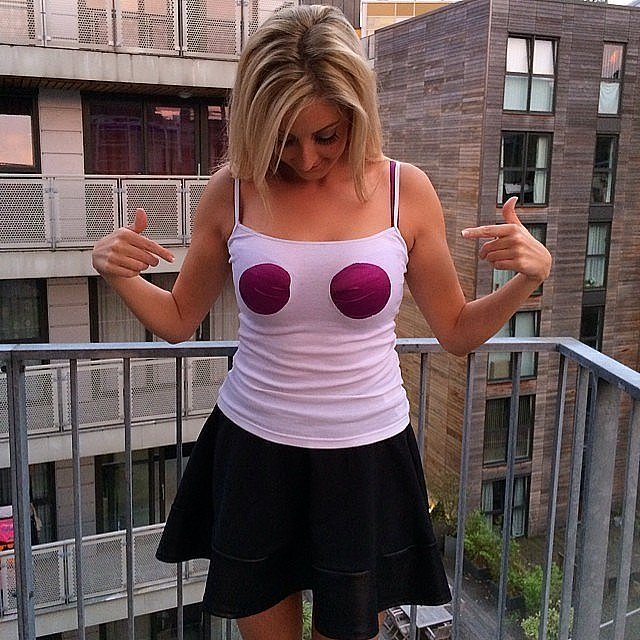 Rule every
Halloween
[13] party as the Plastics leader, mean girl Regina George. Cut holes in a top and layer with a colorful bra for an easy yet awesome costume.
The Black Swan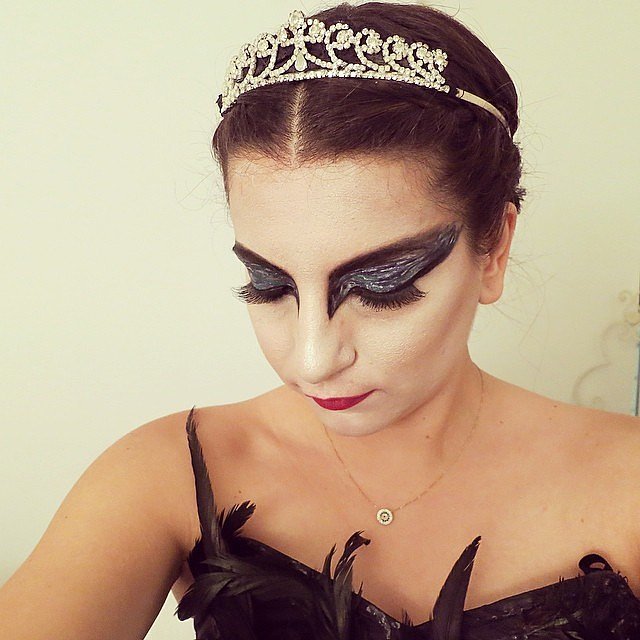 The magic is in the makeup for this stunning costume.
Copy Natalie Portman's film character
[14] with feathered eyes and pale skin, then don a black skirt and ballet flats.
Zombie Victim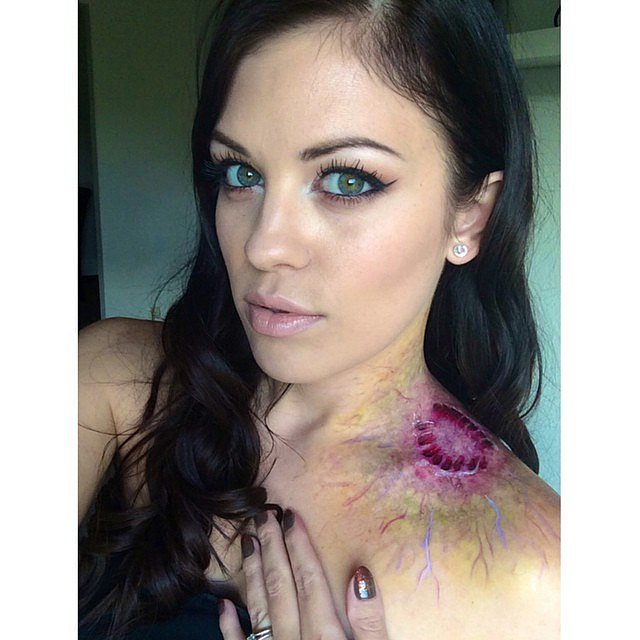 Get your makeup hand ready to apply some seriously gnarly special effects to your skin! Once you've painted a zombie bite and infected veins, the rest of your outfit is up to interpretation.
Vampire Queen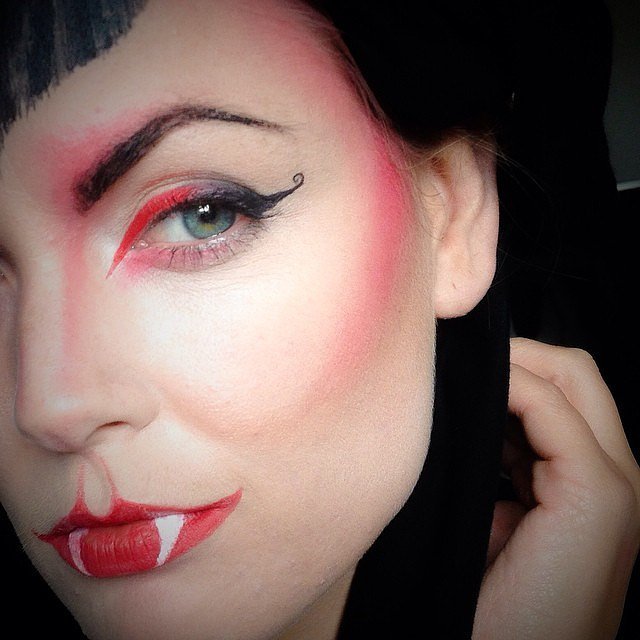 Red facial contouring and painted fangs are simple to apply with a cheap
Halloween
[15] makeup kit.
Silent Film Star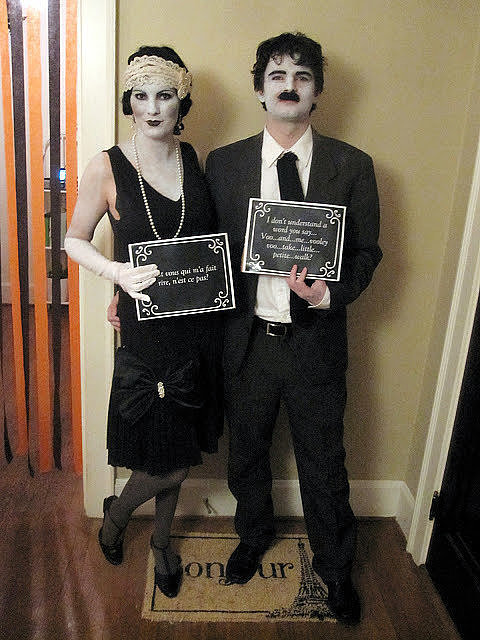 This black-and-white film star costume might be perfect for those who think silence is golden. Go grayscale with black and white body paint, then stick to vintage clothes in only black or white.
Queen Elsa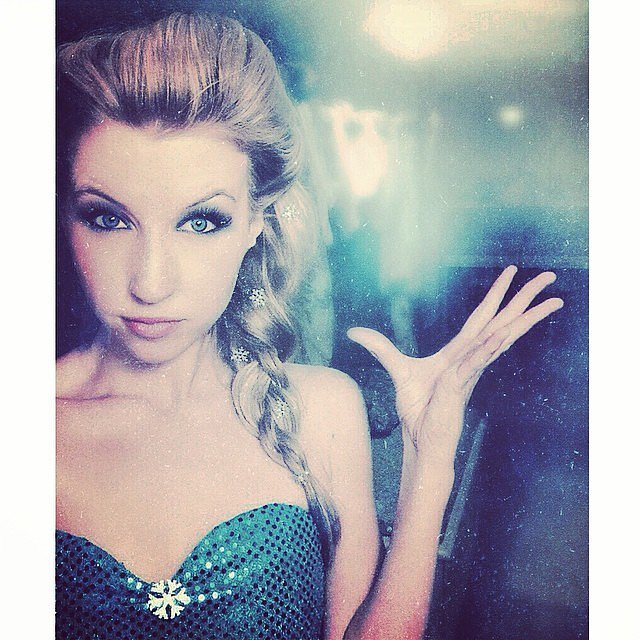 Blue clothes and a side braid will help you dress like this Disney ice queen for the holiday.
Miley Cyrus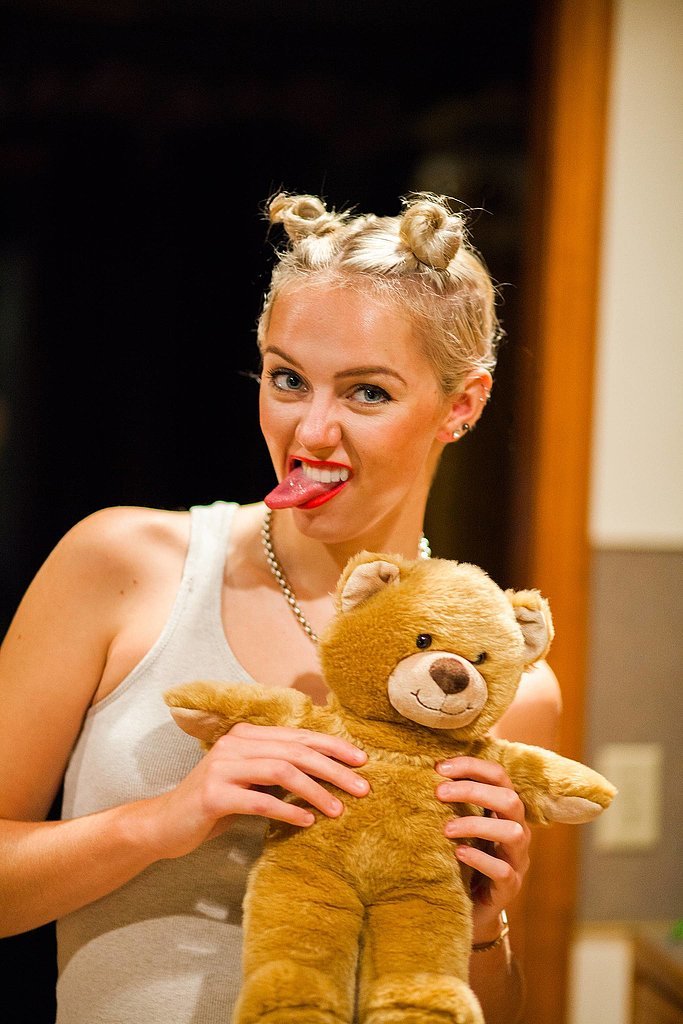 There are plenty of iconic Miley looks to imitate, but double buns and red lips are the easiest. Don't forget to stick out your tongue!
Creepy Marionette Doll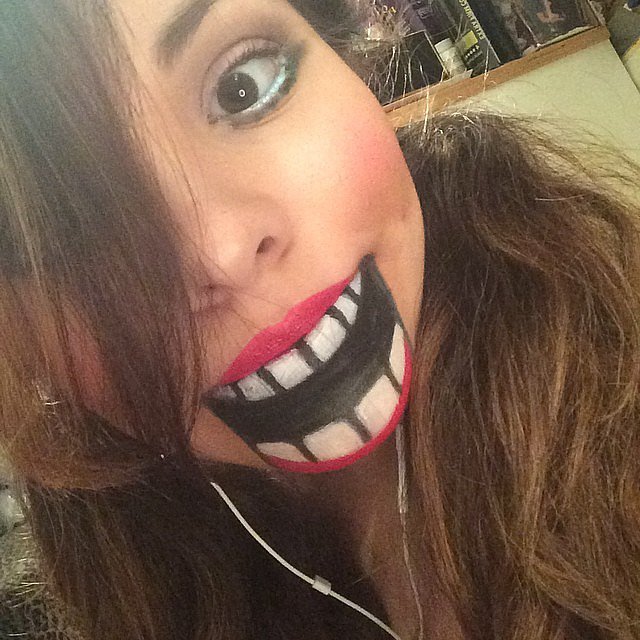 Yet another costume perfected by makeup alone, this marionette look is sure to creep out your friends.
Deb From Napoleon Dynamite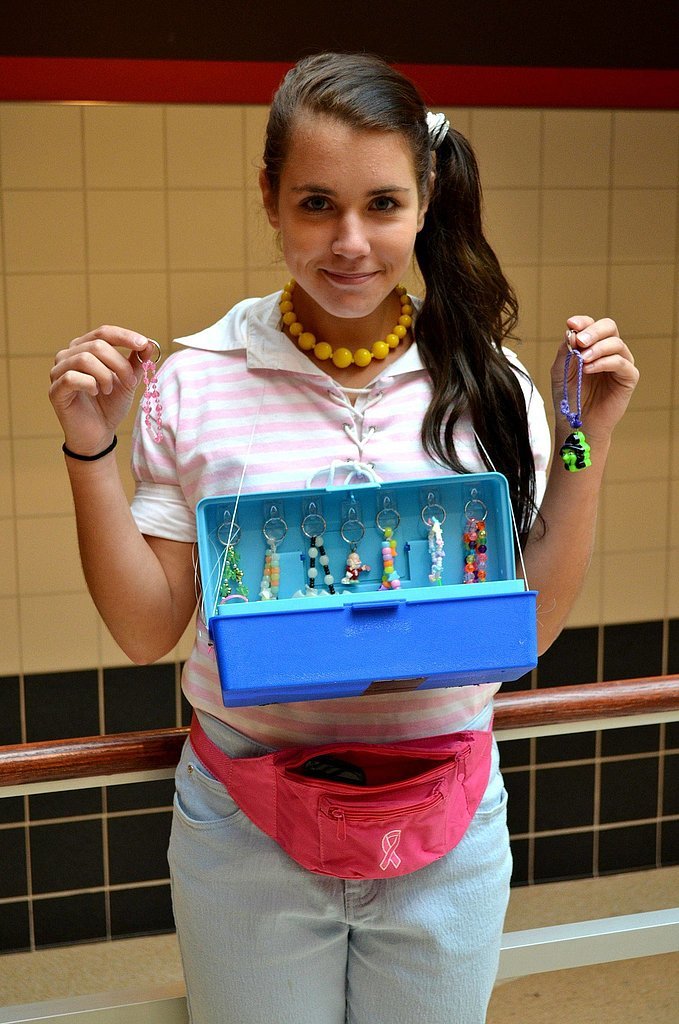 Unleash your inner entrepreneur and play the enterprising Deb. Get a pale pink- and white-striped polo shirt, side ponytail, pink fanny pack, and a plastic box with plastic jewelry to really nail the look.
Glamorous Flapper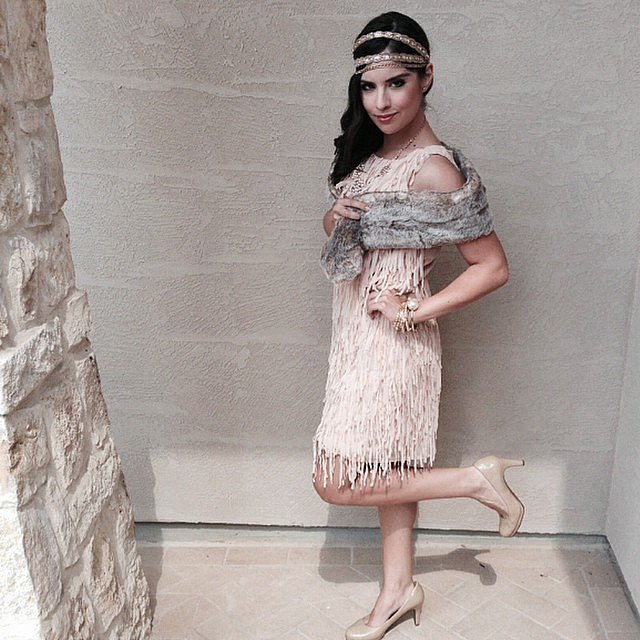 Every piece of this 1920s ensemble can be found in thrift shops, from the fringed dress to the shimmery headbands. Beware of Gatsby wannabes trying to sweep you off your heeled feet!
Barbie Doll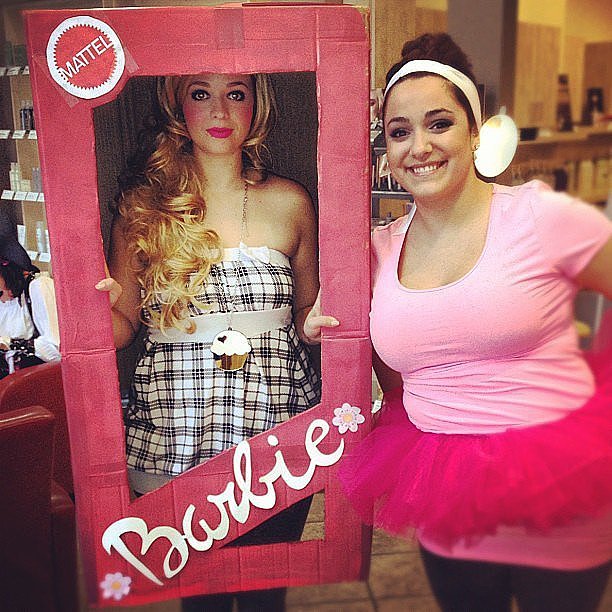 Paint a cardboard box to match Barbie's pink packaging, then layer on heavy makeup. It's easy to be a Barbie girl in a Barbie world for
Halloween
[16]!
Cat in the Hat
A striped hat and big red tie will pull together your Seuss-inspired
Halloween
[17] look.
Bath Puff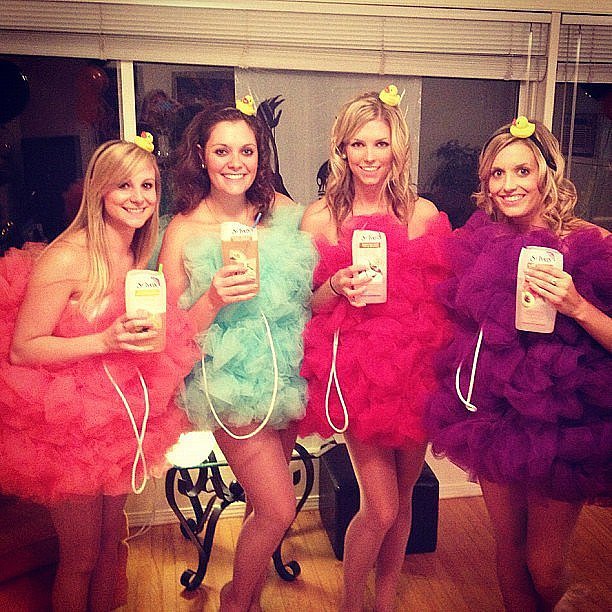 A bath puff costume is sure to be one of the most creative costumes of the night! And you can make it yourself with string and colorful tulle.
Audrey Hepburn in Breakfast at Tiffany's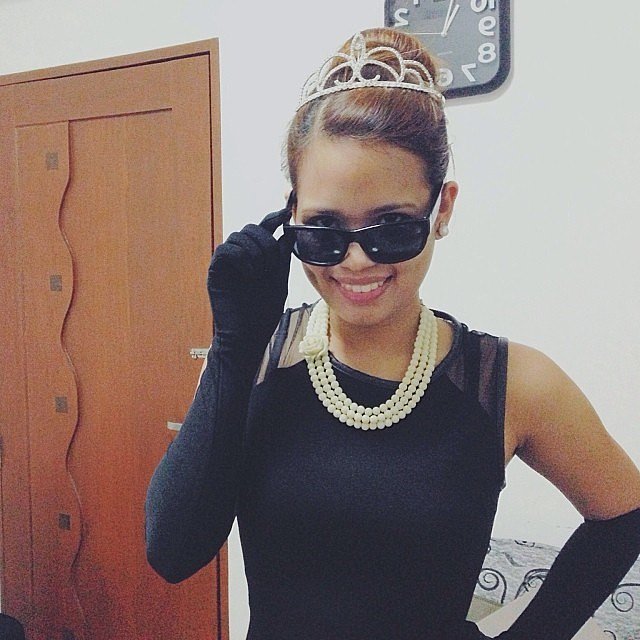 Costume jewelry, a tiara, gloves, and a LBD will transform you into a glamorous film star just in time for
Halloween
[18] parties.
Cat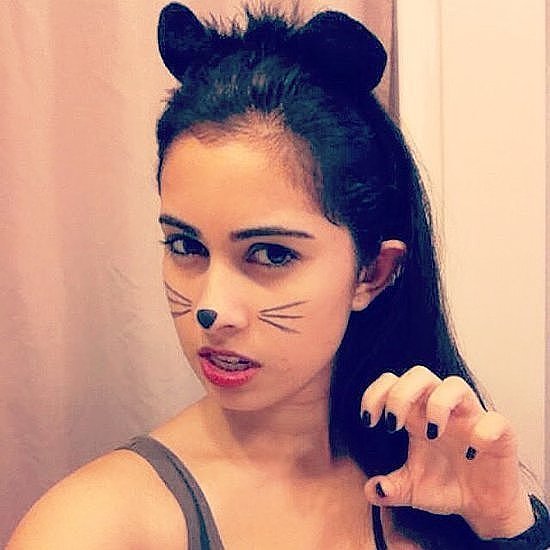 All it takes to nail this classic costume is eyeliner whiskers and some fake cat ears. Meow!
Ceiling Fan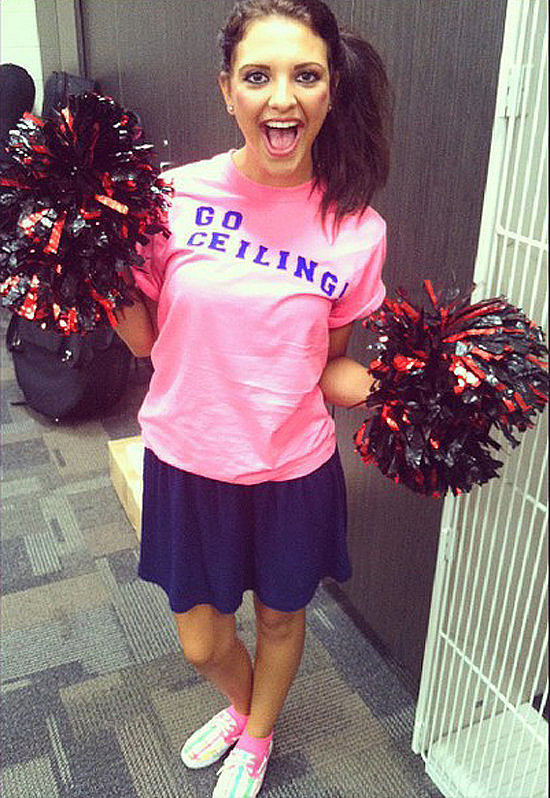 Witty and easy? This costume is perfect for the funny girl in a last-minute costume pinch.
Comic Book Character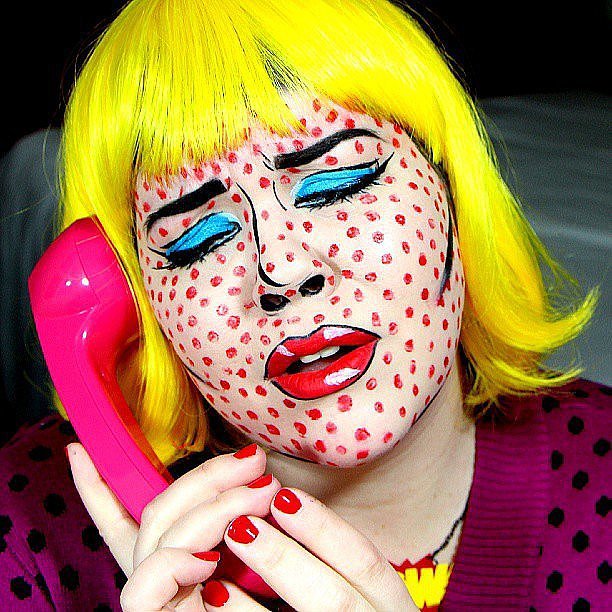 Invest in a
Halloween
[19] makeup kit and impress your friends with shockingly cartoonish features for Halloween.
Vintage Circus Performer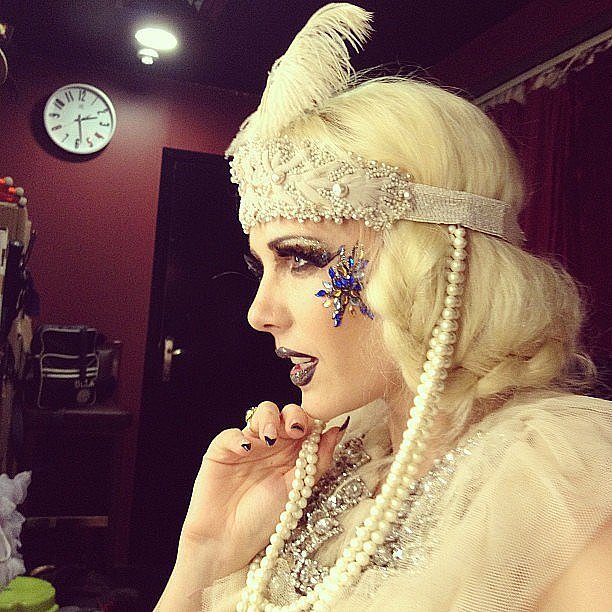 Wow the crowds on
Halloween
[20] by transforming yourself into a glamorous circus performer. Paint your face to the extreme with huge, faux eyelashes and stage makeup. Wear headgear with a huge feather or even a cool-looking top hat. Suit up with a leotard, and you're ready to begin the show!
Freudian Slip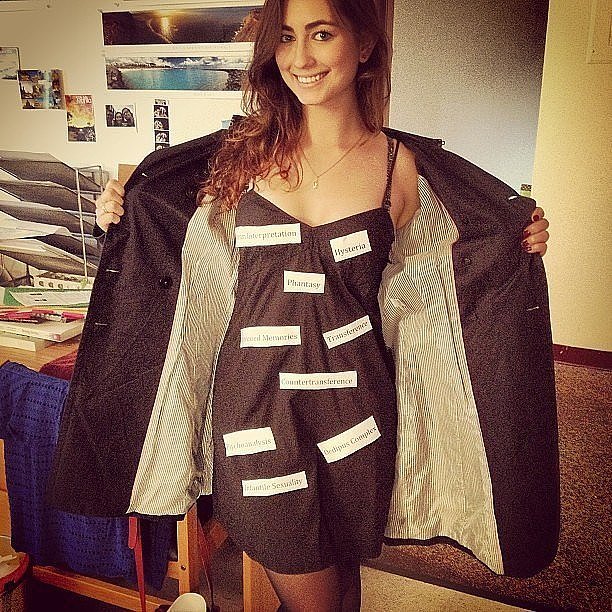 Everyone will think you're the cleverest girl at the party — especially your friends who majored in psychology. Write some of Sigmund
Freud
[21]'s famous terms on simple strips of paper and glue them to a silky negligee, and you have become a Freudian slip!
Cruella de Vil
Be the neighborhood dogs' worst enemy this
Halloween
[22]. Wear a long black skirt or dress, spray temporary dye in your hair, wear a white fur coat, and carry a cigarette holder. Don't forget the dramatic eye makeup!
Daria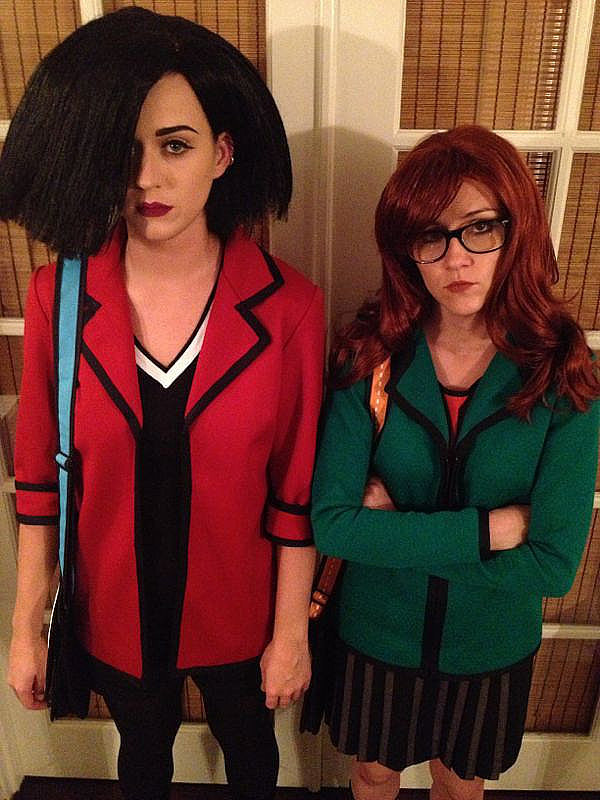 Prepare to give everyone deadpan looks and monotone answers the whole night.
Daenerys Targaryen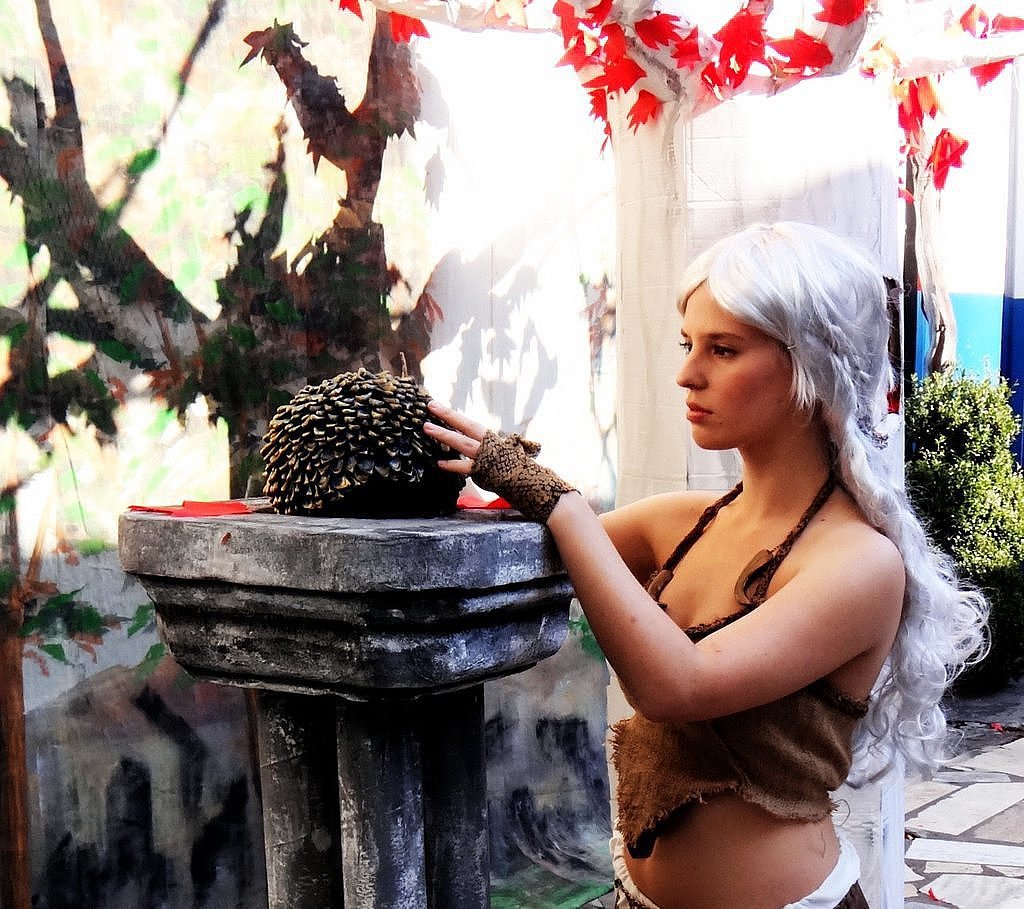 Get a light blonde wig and a costume you can make from strips and pieces of brown cloth. Don't forget the toy pet dragon to complete this
Game of Thrones
look!
50 Shades of Grey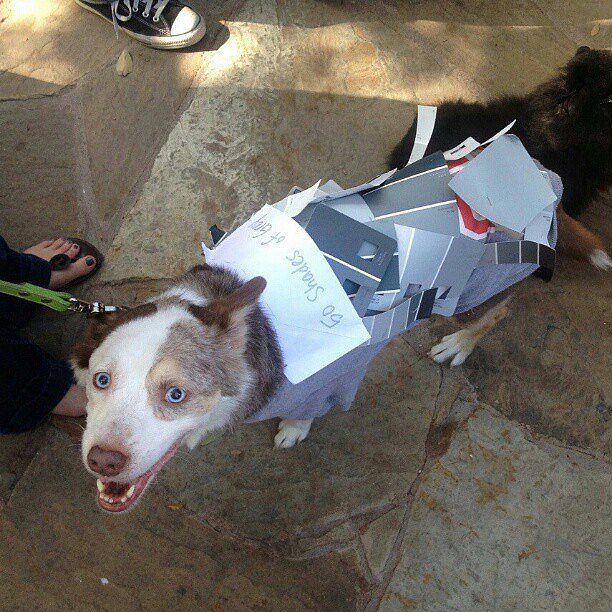 Creating a grayscale outfit is one of many fun (and free!)
ways to use hardware store paint chips
[23]. Not to mention the hilarious play on words! Simply copy this dog and attach gray paint chips to your clothes.
Dumbledora the Explorer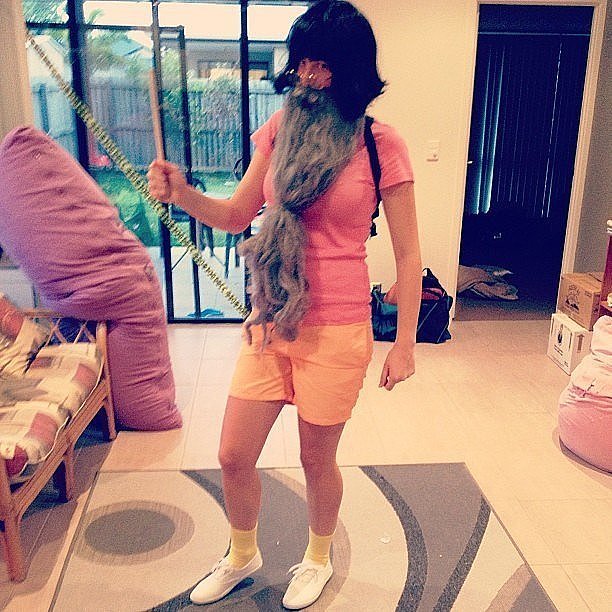 Combine your love of
Harry Potter
and children's cartoons by adding a wand and beard to colorful clothing. Pack some spell books in your backpack!
Fortune Teller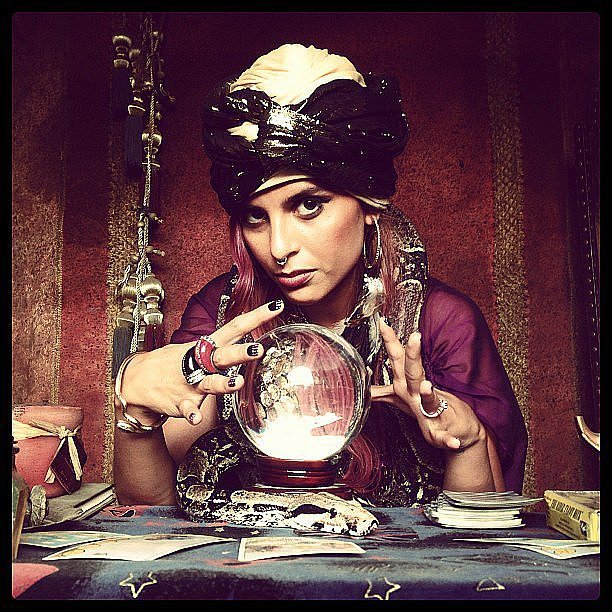 Impress people with some gypsy magic and have fun walking around telling fortunes of your friends. Throw a scarf around your head and don tons of jewelry to channel a spooky sybil.
Firefox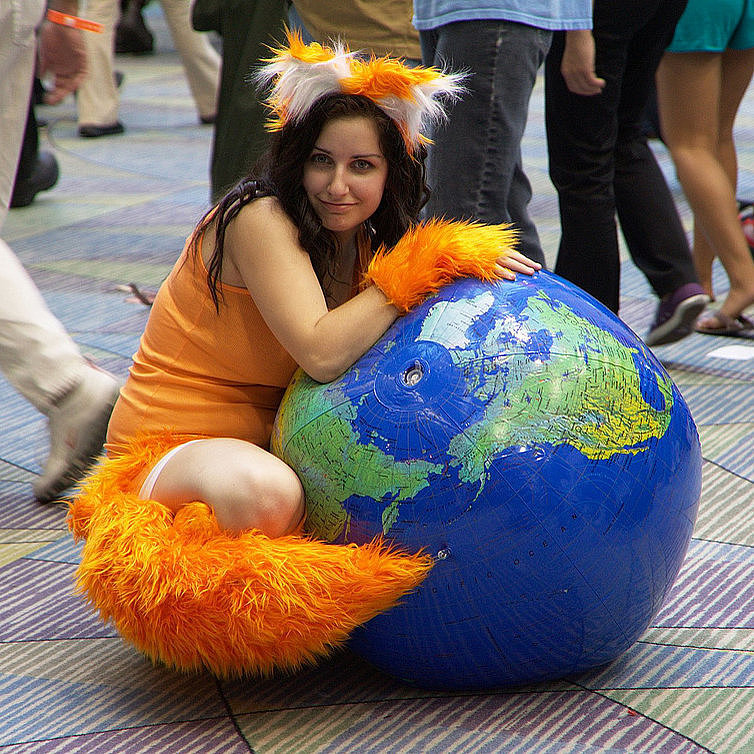 Get an orange outfit that includes furry orange ears, a tail, and fingerless gloves. You also need a globe, which you can make using an inflated ball and painting it! Internet Explorer users, beware.
Greek Goddess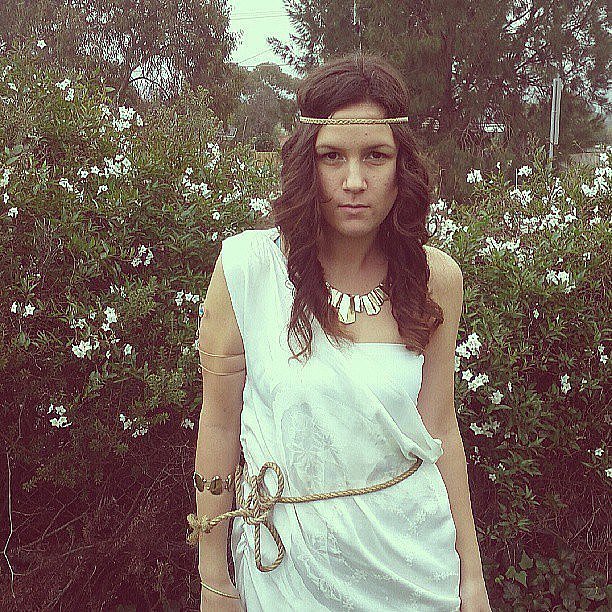 Recall your college toga party days by wearing a sheet and gold ribbon as your costume.
Gold Digger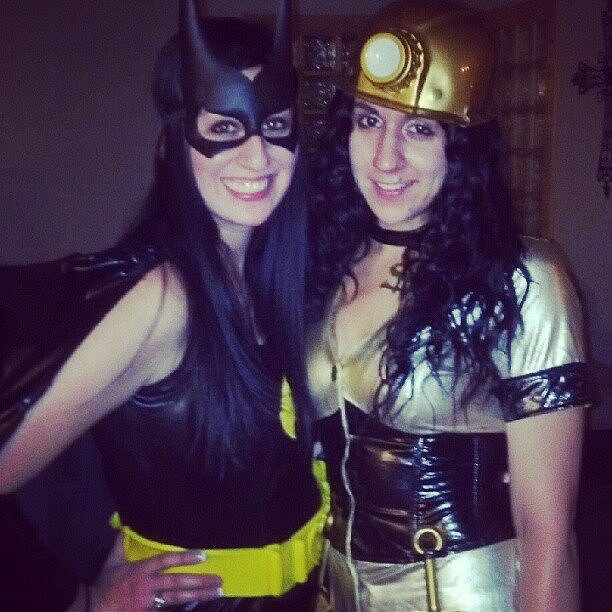 Dress in all gold — or spray-paint your clothes gold for a
DIY
[24] project — and accessorize with a shovel and helmet.
Hocus Pocus Witches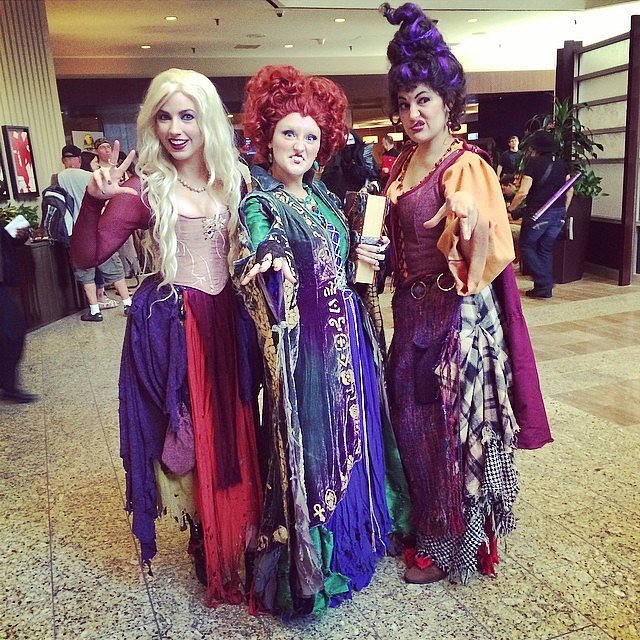 Choose your favorite witch and channel her with a corset, heavy makeup, and funny
Halloween
[25] puns.
Helga Pataki From Hey, Arnold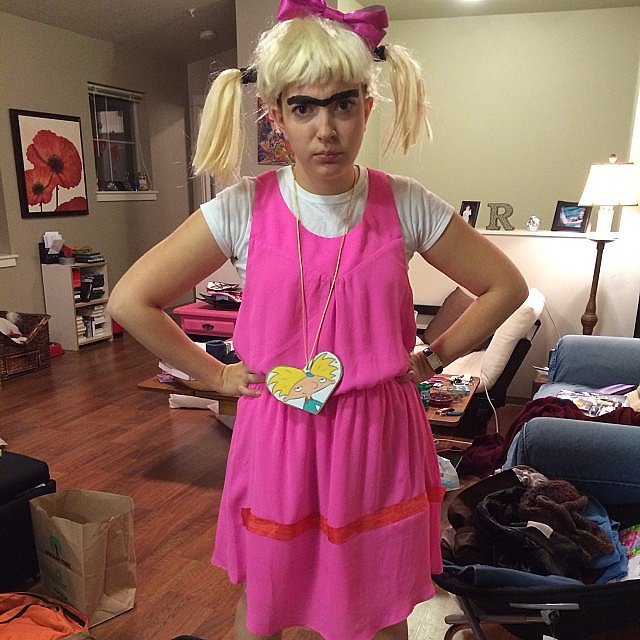 The key features of this cartoon costume are pigtails, a pink bow, and a thick unibrow. Have fun bossing everybody around!
Hippie Chick
A flower-crowned head, thrifted florals and fringe, and a perpetual peace sign thrown up is the recipe for a costume filled with free love.
Lady Gaga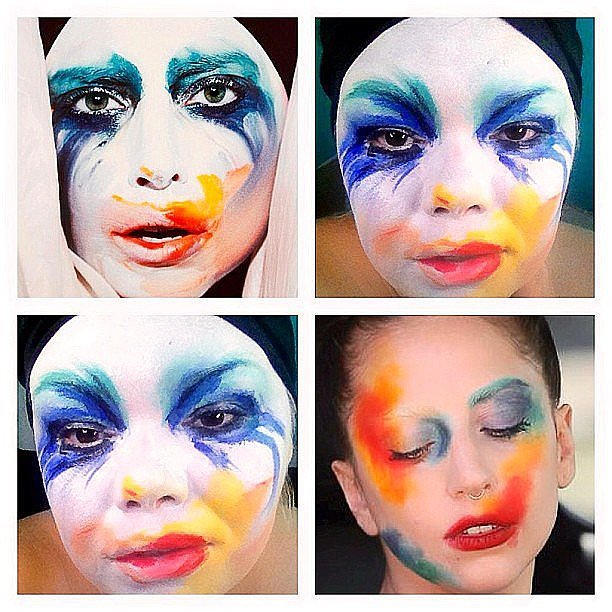 Dance the night away like
Lady Gaga
[26] with makeup from her Applause music video by buying different shades of face paint and watching this
YouTube tutorial
[27].
Mary Poppins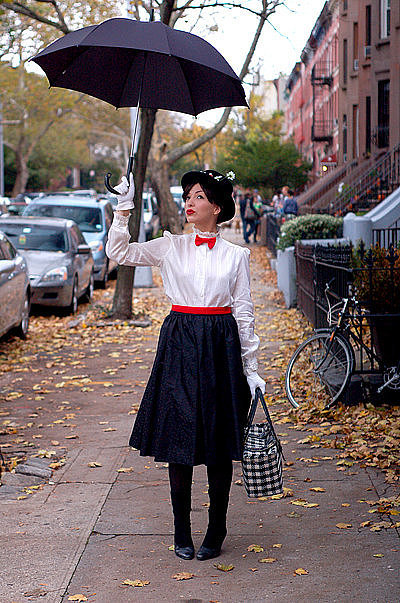 Mary Poppins is definitely one supercalifragilisticexpialidocious
Halloween
[28] costume! Don't forget your umbrella, big bag, and a red tie to make this costume as sweet as a spoonful of sugar.
Leela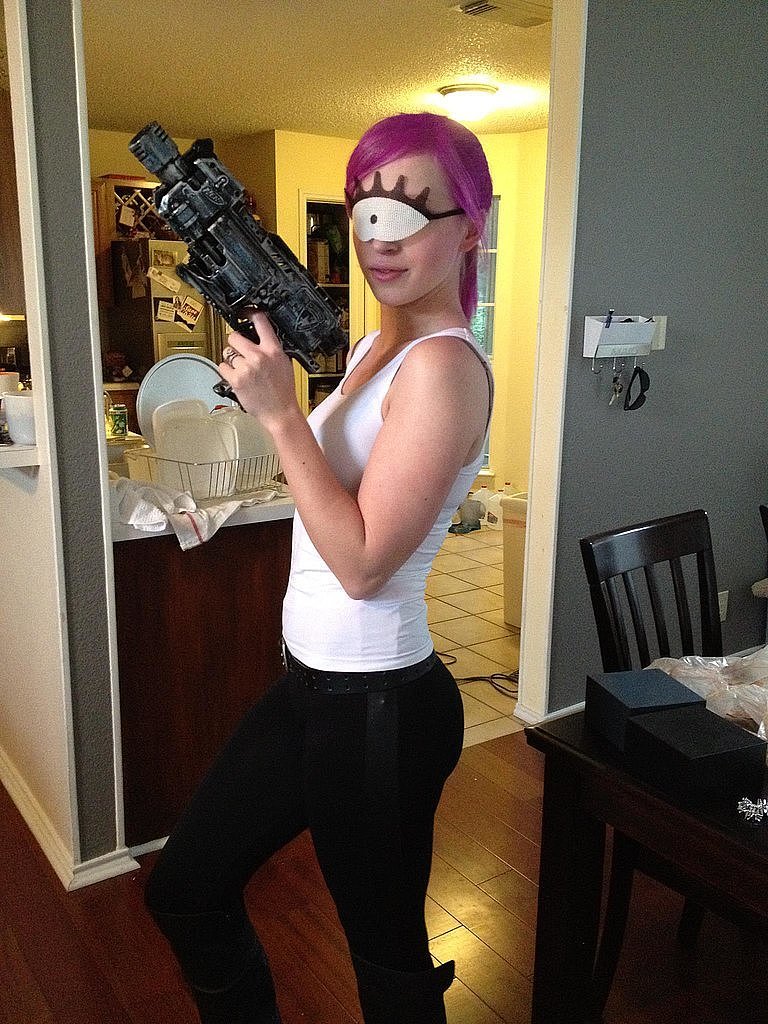 This costume is so easy! Create a large, fake eye, then don a white tank and black pants.
Source:
Reddit user totemkai
[29] via
Imgur
[30]
Minion
Show off your love for
Despicable Me
by going yellow this holiday.
Mystique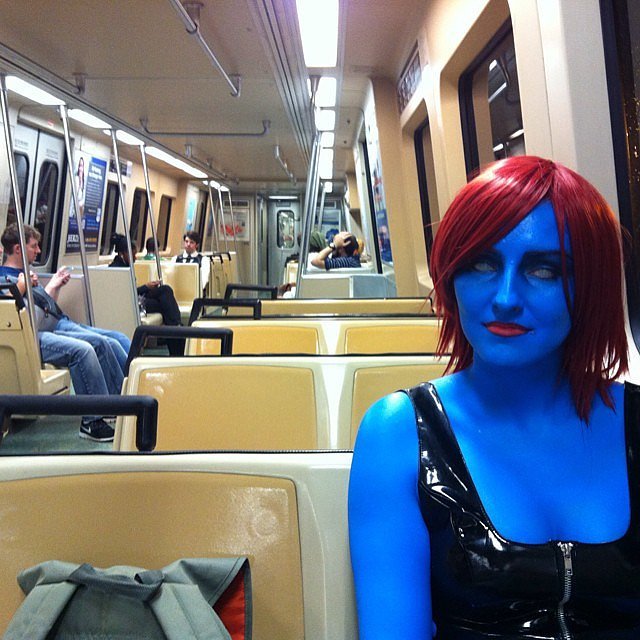 A red wig and blue body paint will help you transform into this shape-shifting mutant.
Owl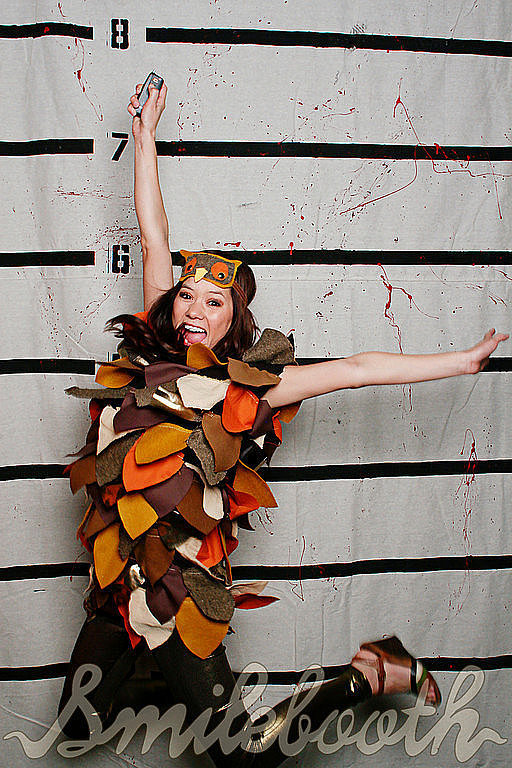 The night owl is the perfect costume for those who want to party all night long. You can
DIY
[31] this look with lots of felt for the feathers and an owl mask.
Party Animals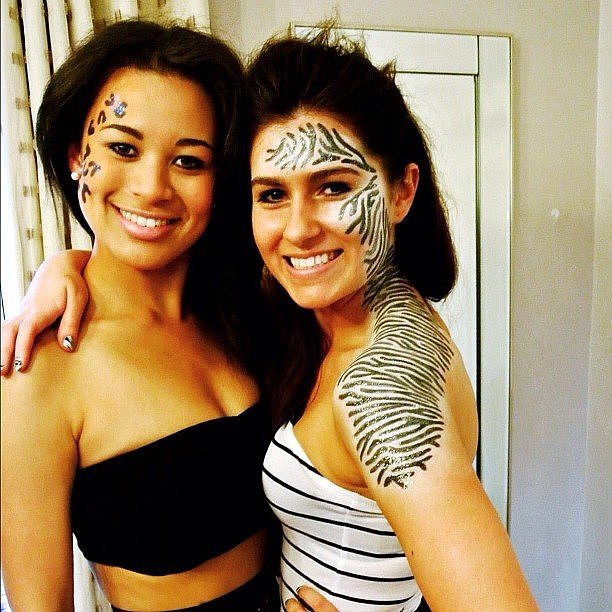 Dress in a typical going-out outfit but add animal paint to your face and body. Some classics include lion, zebra, and panda designs. Just make sure to be the life of the party!
Pippi Longstocking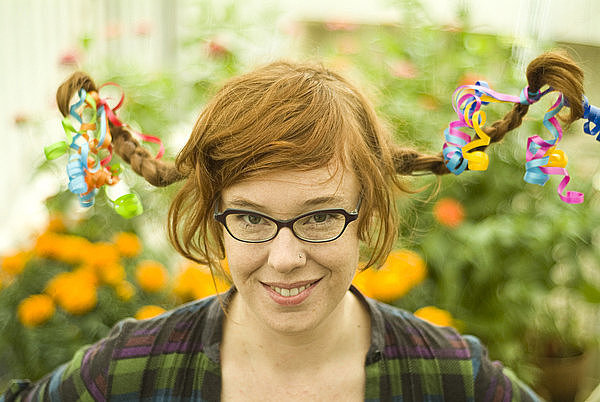 The hair is key for this mischievous costume, so use wire and ribbons for standout pigtails.
Piñata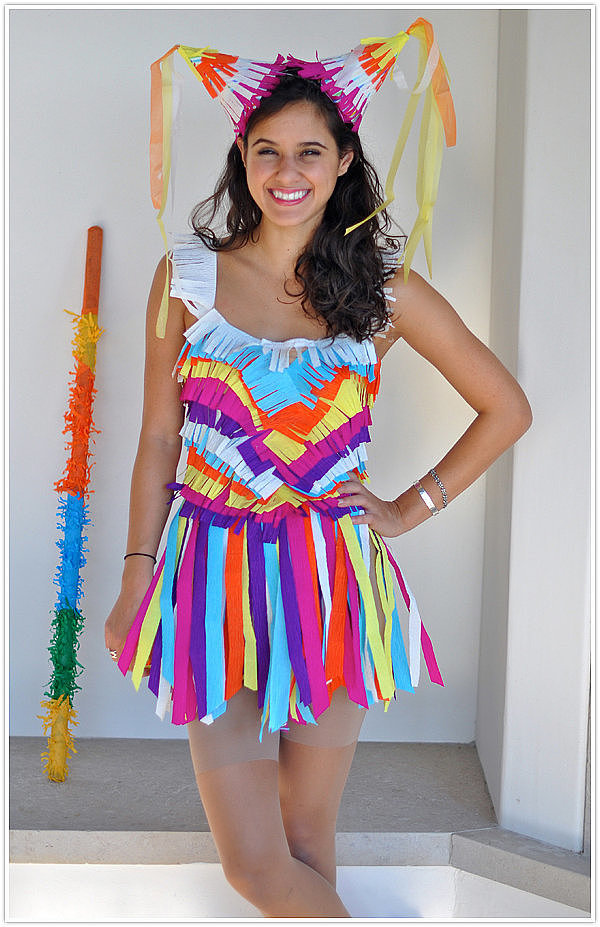 Paper streamers and party hats make for a cheap, fun, and unique costume this Fall.
The Powerpuff Girls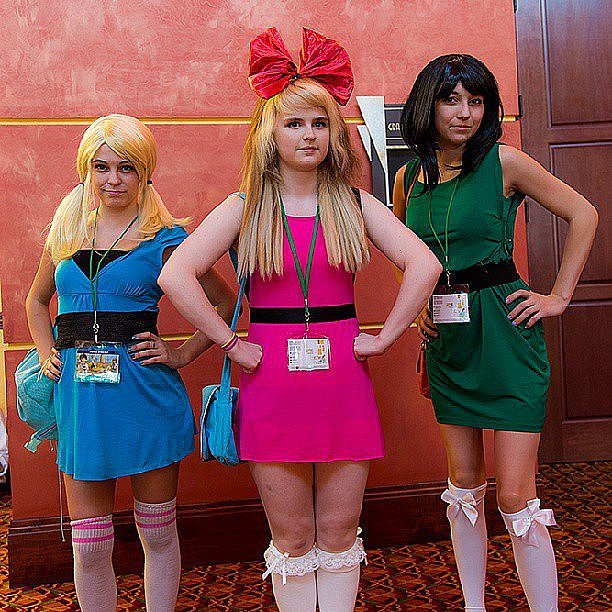 Whether you love Blossom, Bubbles, or Buttercup, you can dress as your favorite Townsville hero with a colored dress and white knee-high socks.
Red Riding Hood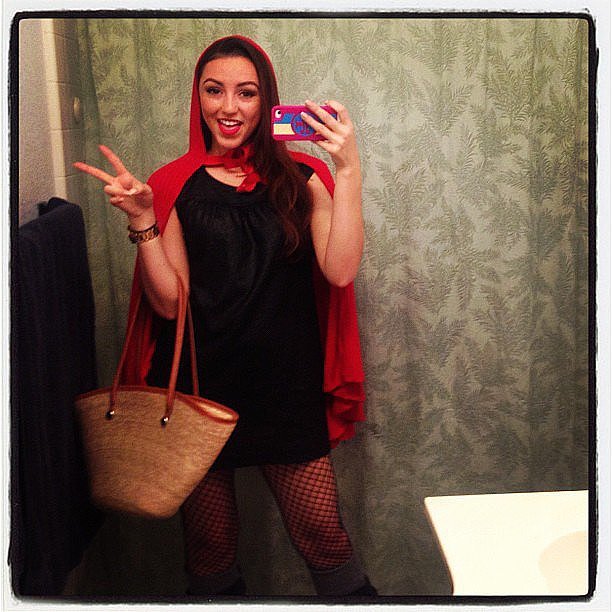 Pick up a basket and red cloak — just beware of big bad wolves.
Samara From The Ring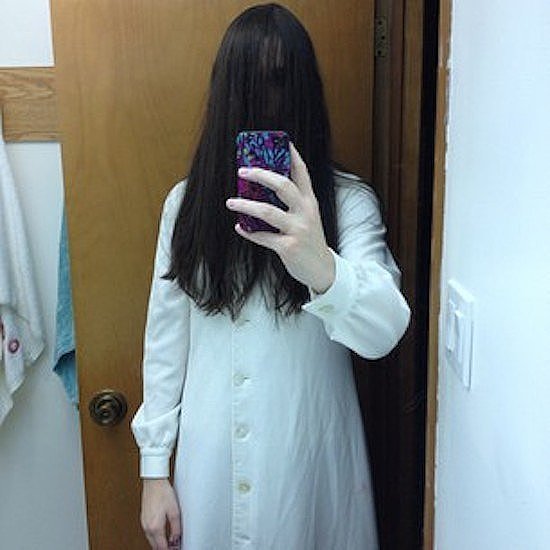 Be the creepiest scary movie girl with a white nightgown and long hair brushed into your face.
Scarecrow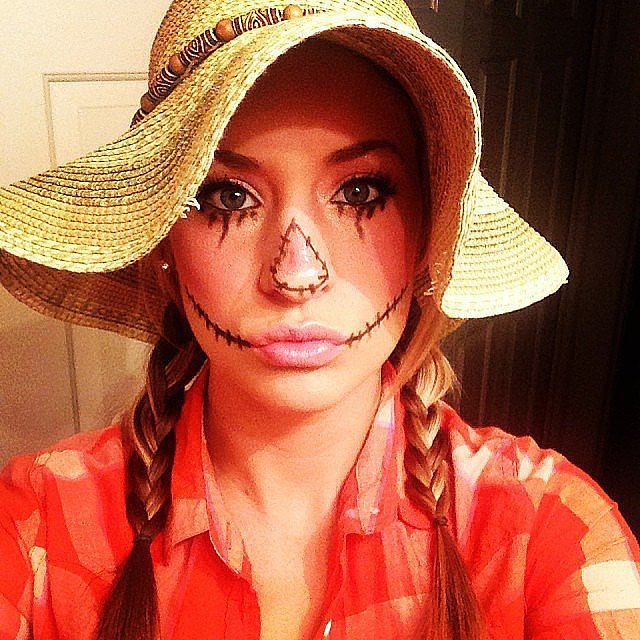 A straw hat, plaid shirt, and eyeliner stitches will help you transform into the ultimate symbol of Fall.
Skeleton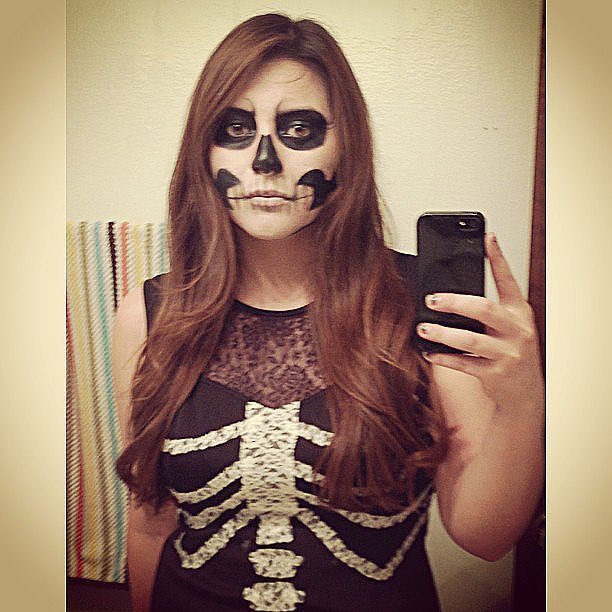 Skull makeup and black clothes will turn you into a dead girl walking.
Social Media Platform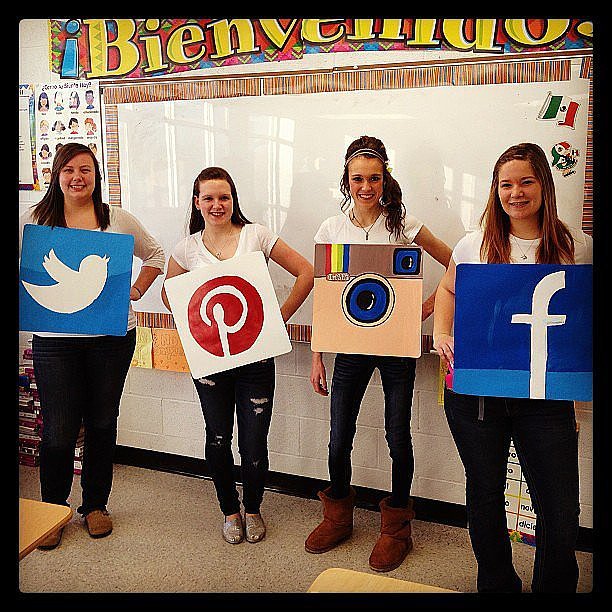 Can't get enough Instagram? Become it! Paint the platform's logo onto cardboard and wear it throughout
Halloween
[32] night.
Stevie Wonderwoman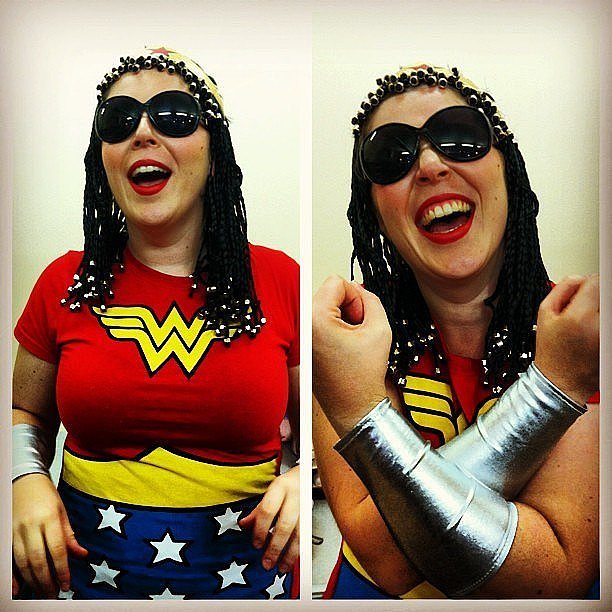 This combination is hilarious and easy! Add sunglasses and braids to any Wonder Woman attire for major laughs.
Troll Doll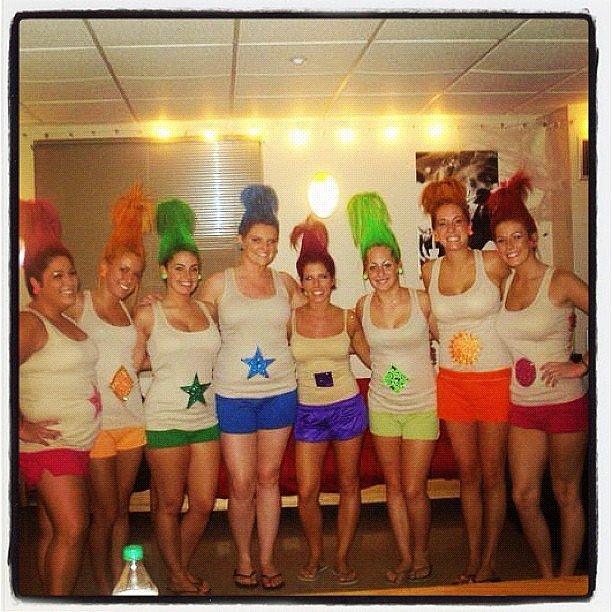 Spray your hair up to ridiculous heights and spray it with bright temporary dye for this nostalgic blast from the past.
Wednesday Addams
Get a long back dress with long sleeves and a white collar (collar can be made and sewn on). Braid your hair, and dust white powder onto your face and hands for pale skin. Don't forget the most important component aspect of the costume: sardonic remarks all night long!
Alice in Wonderland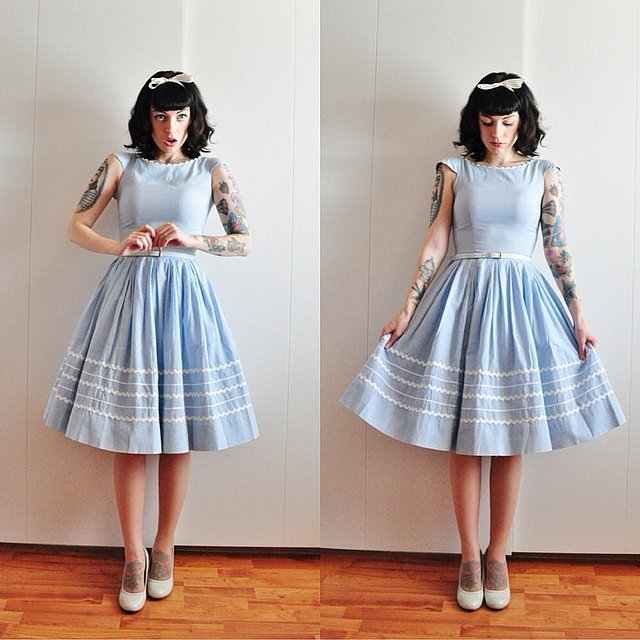 Find a full-skirted blue dress at a thrift store, tie a bow in your hair, and try to include a white apron for this Disney outfit.
---